The Love Story of Serena & Darien

Below is my little story of how I THINK Serena & Darien's love life has been.....If I have any wrong facts or it may be way too off! Please *email me* and let me know and I will try my best to fix it!! k???? Enjoy!!!!!


Long ago....
Long ago, a 1000 years or so....There lived Neo-Queen Serenity, whom she gave birth to our Princess Serenity/Serena/Sailor Moon. Princess Serenity fell madly in love
with the Earth's Prince, Prince Edymion/Darien/Tuxedo Mask. This is how everything began between them......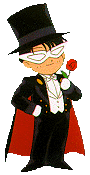 The Past...
When our Princess Serenity and Prince Edymion fell in love...they were not really to see one another, but their love forced them into seeing them....which caused trouble! People on the Earth wanted to destroy the Moon and everyone who lived on it!!
How did this all start??? Queen Beryl...of the Underworld....before the battle began...Princess Serenity gave her star locket to Prince Edymion for she wanted to remember him always!!! Finally, the battle began and Prince Edymion faught on the moon's side to protect his love. However, in the end, both, the Prince and Princess tragically died! However, the Queen was able to beat the enemy and bring the people of the moon back to life in the new future Earth! Including, the Prince and Princess!
Present...
The prince and princess come back to life, however, they don't even know who they really are and who they are from! However, all this began when Luna found Serena and told her almost everything ... from then on, nothing would be the same! Serena ended up turning into Sailor Moon, who was actually Princess Serenity! Finding Tuxedo Mask on the way, she was thinking he was a major hunk...and soon they fell in love with one another! Together, they found all 5 scouts and went on beating the enemy!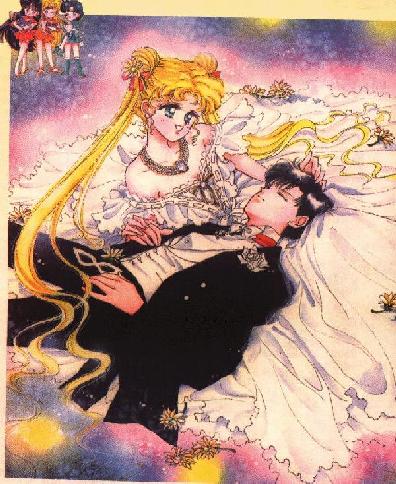 Present I...
In this one, Serena and Darien hit some rough spots, for Darien has a dream that if he didn't leave her...she would die. In the end, they broke up leaving Serena with a broken heart. However, she never gave up on trying to get him back. Then one night, she has the same dream that Darien had...and not being afraid of telling him, she told him the dream that she had. Darien amazed tells her the same thing and soon they think nothing of it and get back together.
Present II...
Here...Chibi Moon/Rini...arrives! Where Serena, somewhat jealous, thinks that Rini has ruined Darien and her's relationship! However, they find out that Rini is from the 30th century and that she is Darien and Serena's future child!! Weird ... huh? hehe...anyway, Luna and Artemis....also find out that they have a child of their own too! Diana....Rini's little kitty!!! This is when Serena has to fight evil to save her future self and to save the Moon kingdom from being destroyed by the Black Moon!!!!!!
Present III...
How could anything change their love??? Who could take it away! No one...that's who! In the end, Serena and Darien go on being boyfriend and girlfriend....they love one another as any other boyfriend and girlfriend should! However, the rest is just a mystery!! Who knows what may happen to them! We will only have to wait and see!! =)
End?????
In the end, they might marriage...but who knows!?? The world may never know!! However, I wonder what might bring this such news!? Dont ya think too!?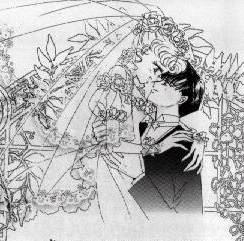 Well there ya have it! My little story of what I THINK the Serena and Darien love life went!! Sooo...what do you think of it???? Hmmmm??? Is it bad??? Oh I hope not!! Also, if you want to view some of the Rings of Darien and Serena's love---> CLICK HERE!
Well, I hope you had a great time reading.....hehe.....

You May Now Return:
Home