§ailor Mercury

Hey! Welcome to the page of nothing but §ailor Mercury! Or also
known as Amy!!!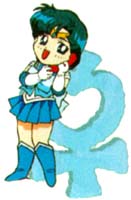 Sailor Mercury (Amy)
The princess of Mercury!

Birthday: September 10, 1978
Japanese Name: Mizuro Ami
Meaning: Friend of Water
Height: 5'2"
Fav.gem stone: Sapphire
Amy is the smart, shy type of a girl! As I heard she has at least an IQ of 300! She
is a brave Scout that fights for her friends, just as the rest do! Her dream is to become
a doctor!! Now this girl is "cool!" hehe...she is also, one of my favorites!!!!

*The reason I like her is cuz she is just like me, everyone at school always says Im too
smart! ^-^ I feel special...and Amy is pretty much like me, except, I dont fight evil
and I dont have an IQ of 300!!! ^-^

Mercury Power all the way!!!!!!!!!!!!!!!

You may now return:
Home